ROOT CANAL THERAPY IN DOWNTOWN TORONTO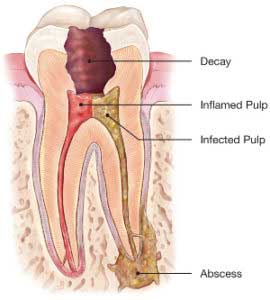 Root Canal Therapy (RCT) is used to treat the tooth nerve/pulp damage due to deep and large decay, fracture or cracked tooth. RCT is basically removal of the tooth's nerve/pulp, then the remaining space is cleaned, shaped and irrigated, and filled. A major advantage of this treatment is the ability to salvage your natural tooth and avoid more costly procedures. That being said, usually after the root canal treatment is done, a crown is recommended to protect and strengthen your tooth.
The procedure includes two visits to our Dental Centre in Toronto, as the treatment must be done in stages in order to accommodate for healing time and comfort. Here are the steps:
Your dentist will create an opening in the crown of your tooth in order to extract the pulp in your canal, clean the area, and treat any detected infection.
Your second visit is all about our infection-free tooth finally being filled and ready for oral activity. Your dentist will fill the empty canal and seal it. Your crown will then be placed on top for protection.
Should your treated tooth darken in pigment or show discoloration due to the absent pulp, you can always have your teeth whitened after your new tooth is ready. We want to make sure you leave your appointment smiling!
Book your appointment for Root Canal Treatment at Artin Dental Office located in the Toronto financial district, inside PATH, between the Exchange Tower and First Canadian Place, or call us for more information. We're here to answer your questions!